How Biannual Dental Cleanings Could Keep Your Mouth In Great Shape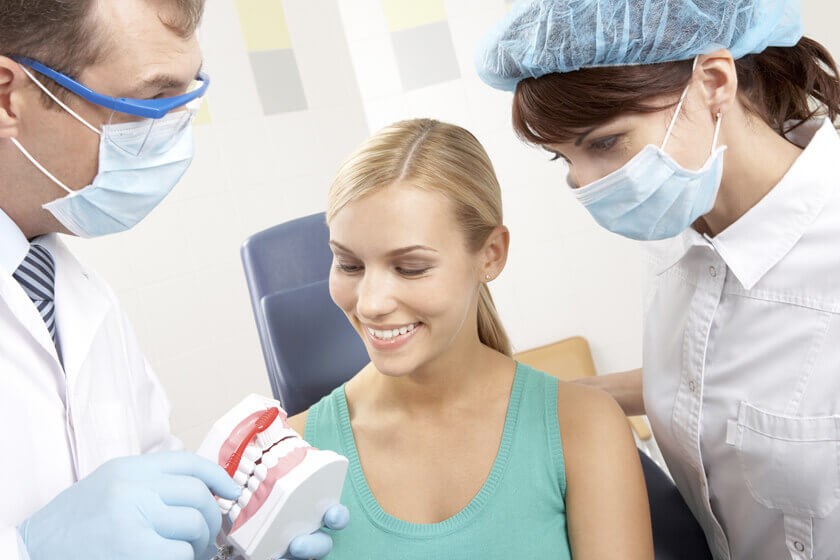 Keeping up with a consistent system of brushing and flossing every morning and evening is vital to ensure that your oral wellness is in great shape. However, one fact that a majority of patients fail to realize is that teeth cleanings from a dental hygienist are equally important to your oral wellness. Regular teeth cleanings, also called prophylaxis, are a preventive dentistry treatment that eradicates plaque and polishes the surface. Getting your enamel professionally cleaned on a routine schedule can help to keep plaque, tartar, teeth yellowing, and several other problems to a minimum. Removing the buildup from the mouth might also get your teeth and gum tissue into greater shape, as well as freshen your breath.

Seeing your dentist twice each year for routine cleanings is an essential part of anyone's oral health plan. Our talented team of dental practitioners and hygienists utilizes modern approaches to perform general dental care services and enhance the health and lives of Charlotte, NC people. When you require a professional dental cleaning or have separate oral wellness concerns, DentalWorks - Carmel Village hopes to be your trusted provider of dental treatment. We invite you to look through this online source so you can learn everything you need to know when it comes to biannual dental cleanings and how this important dental care service might help your smile, today and far into the long term.

WHAT DO REGULAR DENTAL CLEANING VISITS INVOLVE?
A biannual teeth cleaning at DentalWorks - Carmel Village will be tailored to suit your particular wellness needs. Various other preventive dentistry treatments could also be completed at a cleaning session to help you get more benefits from your trips to your dentist. The other services may consist of teeth sealants or fluoride gel. Teeth cleanings by our knowledgeable Charlotte, NC team are in-depth and intended to help you experience your healthiest smile.

At the start of your appointment, our team will go over your medical history
Charlotte, NC patients are commonly surprised to discover that their oral health can have an impact on their general physical wellness. Prior to your teeth cleaning, your past and present medical conditions, including drugs or supplements that you've been prescribed, will be carefully assessed. Doing this will give our staff a greater knowledge of your overall physical health and the ways it can impact your dental standing.

After this, a hygienist on our skilled staff will clean your teeth.
The majority of your biannual cleaning visit will be devoted to removing plaque and buildup from your teeth. Food particles and buildup provide an environment where dangerous bacteria exist and release toxins or acids that may ultimately weaken oral structures, like the teeth. Our skilled professionals at DentalWorks - Carmel Village can delicately remove the plaque and bacteria from your teeth to help enhance your dental health and lessen the potential for certain problems, such as enamel deterioration and periodontal disease. Yellowing or stains that have built up on the teeth from dark beverages or other foods can also be buffed away to create a whiter and more beautiful appeal to your teeth.

Fluoride treatments can be made available to kids or teens who easily develop tooth decay.
A fluoride treatment is a common service we offer to help strengthen the teeth and protect against the formation of decay. The service is typically recommended for kids, but it may also aid teens and men and women who show symptoms of early tooth decay, a tendency to develop cavities, vulnerable root surfaces, or various other points of concern. To benefit individuals who might be at a greater risk for tooth decay, fluoride can be layered on the teeth toward the last part of their teeth cleaning appointment.

HOW FREQUENTLY SHOULD MY FAMILY RECEIVE A THOROUGH DENTAL CLEANING?
Regular teeth cleanings are usually recommended about two times per year, but patients who have gum disease or various other dental problems might need cleanings more often. Our highly trained Charlotte, NC team will learn about your concerns and help you decide the prophylaxis frequency that's right to make sure your enamel and gumline are in the greatest condition.

FIND A DENTAL PRACTITIONER WHO'S DEDICATED TO THE HEALTH OF YOUR MOUTH
A smile is usually one of our most appealing features. Getting biannual teeth cleanings is crucial to ensure that your smile is glowing, visually pleasing, and in excellent condition. To achieve this, it's important that you select a dental professional who is just as committed to the wellness of your smile. Our staff of dental professionals at DentalWorks - Carmel Village is passionate about elevating the lives of our numerous patients with an attentive approach to oral care. We encourage local patients to get in touch with our Charlotte, NC facility today to set up an appointment for a routine dental cleaning.